Learn Spanish For Free Online: Spanish Lessons And Courses For Beginners
Most of the time, learning a new language requires investing not only time and effort but also quite a lot of money.
If you're looking for resources to learn Spanish for free online, then stay here!
I'm going to give you tips and suggestions not only of the greatest apps for learning Spanish for free, but also of effective websites, games, YouTube videos, podcasts, and courses!
Don't worry if you're new to the language, I'll also show you the top tools for learning Spanish for beginners free of charge.
1. How Can I Learn Spanish Online For Free?
Check the following video to get an overview of some amazing online resources to start learning Spanish completely free.
When learning a new language, it's always better to combine different resources to acquire not only plenty of Spanish vocabulary, but also Spanish grammar, listening comprehension, and finally speaking activities.
Here we'll dive into each of the free resources available online so that you can start to learn to speak Spanish right away for free from the comfort of your home.
2. Is There A 100% Free Spanish Learning App That Offers Online Spanish Lessons?
Yes!
Luckily, there are several learn Spanish free apps to choose from.
There are many apps to learn Spanish for free that you can download on your phone or tablet and use whenever and wherever you want. Follow this article where I will review some of the best free apps to learn Spanish and what they offer.
Duolingo: Play Entertaining Games And Practice Spanish
One of the most renowned free apps to learn Spanish is Duolingo.
This app is free of charge, and you can learn Spanish while playing an entertaining game that includes the practice of vocabulary, grammar, listening comprehension, and pronunciation.
The app is available on iOS and Android and you can also check it out in your browser.
Lingq: Short Text Lessons With Reading And Listening Sections
LingQ is another great option. LingQ lessons offer short texts in Spanish, reading, and listening sections so that your Spanish practice is truly complete.
LingQ is available on iOS and Android, too but there's also a website that you can take a look at.
Memrise: Your Online, Personal Ai Language Tutor
Memrise is more than just an app: it's your personal AI tutor that teaches you Spanish like a local. This platform offers you authentic videos, and personalized lessons and you also get speaking practice with Memrise's AI conversation partner called MemBot!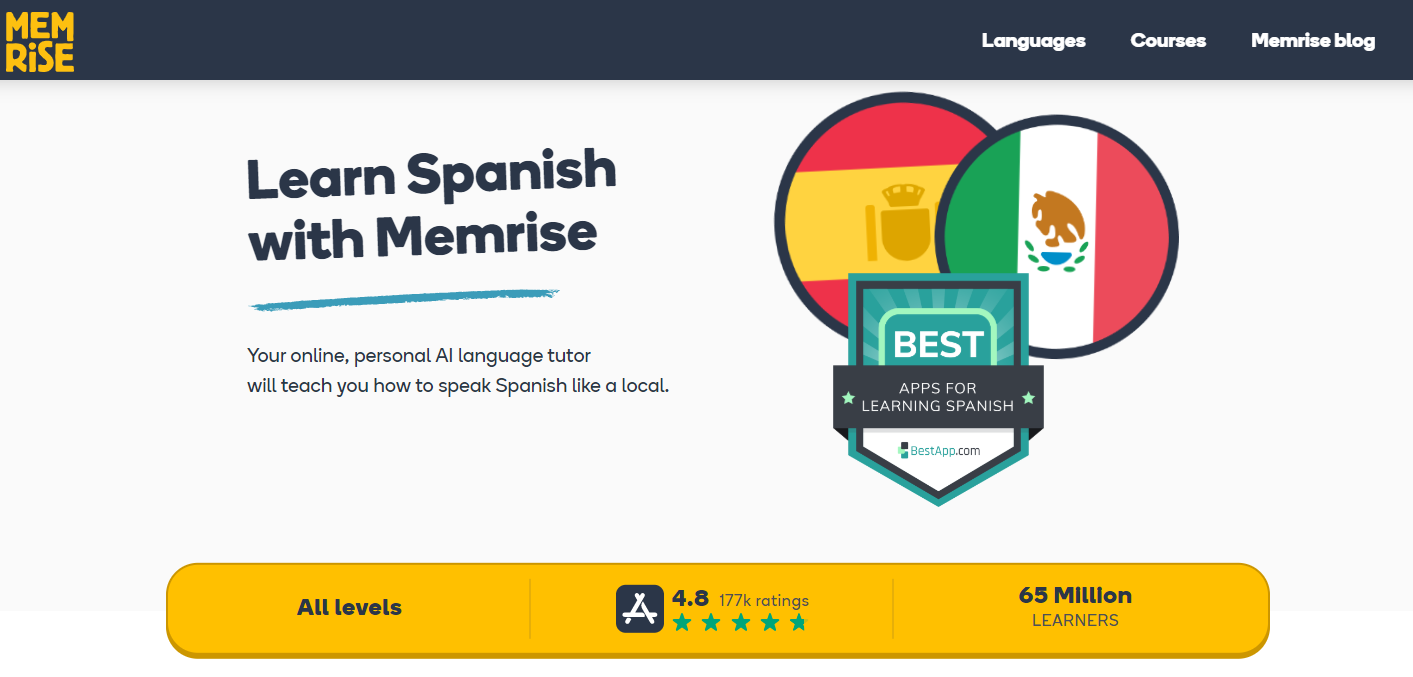 You can download the Memrise app right from their website both for iOS and Android.
Busuu: Learn From Experts And Achieve Your Goals
Learning Spanish with Busuu is a great tool for anyone who has a busy lifestyle. Busuu offers compact lessons and you can even download them so you can learn anytime, anywhere, even offline!
Whether you're waiting for a coffee, a friend or a train, Busuu helps you make the most of your time.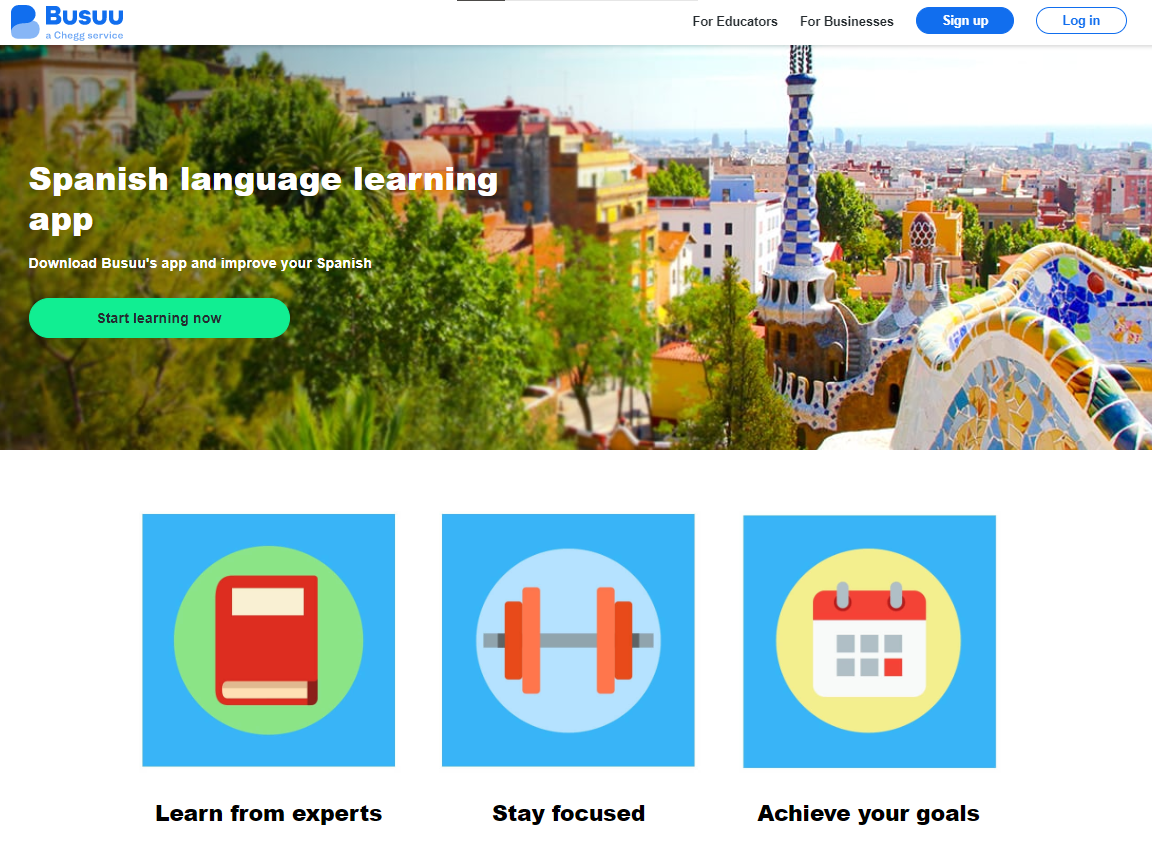 Busuu is also available on mobile: You can learn up to 14 languages on your mobile with this app.
3. Learn To Speak Spanish With Podcasts
Listening to podcasts can improve your Spanish skills because you can hear how the language sounds from someone who speaks it natively.
Spanishpod101: Beginner, Intermediate And Advanced Episodes
My first and favorite suggestion is SpanishPod101.
This podcast offers both a free plan and a paid one, and includes beginner, intermediate, and advanced episodes, spoken by native speakers from several different Spanish-speaking countries.
This gives you the extra benefit of practicing the very variety of Spanish that you're interested in. SpanishPod101 is available in the App Store, and the Play Store and they also have a great website to start from.
IMPORTANT: While SpanishPod101 offers a free plan with new lessons every week, if you're thinking of getting a paid plan, great news: I asked SpanishPod101 if they could do something about their pricing for my readers, and they agreed to give 25% off all their plans for Effortless Conversations readers.

Important: you have to use the following link to claim the SpanishPod101 discount (25% off):
I created a dedicated page about how to use SpanishPod101 and the Conversation Based Chunking TOGETHER!
Show Time Spanish: Traveling, Sightseeing And Leisure Activities
Show Time Spanish, from Coffee Break Spanish, is a great option for intermediate and advanced students who want to improve their listening skills.
They offer 40 lessons in this series and talk about various themes including traveling, sightseeing in Spain, leisure activities, entertainment (and a little bit of grammar).
Recently, I wrote an article about the 11 best Spanish podcast tools. Feel free to read the article!
Spring Spanish Podcast: Spanish Conversation And Grammar Basics
I'm one of the founders of this platform that created these lessons, so I may have a personal bias…
But I think that the Spring Spanish Podcast is an amazing resource for learning Spanish through engaging dialogues, lessons, and roleplays. You can find many lessons on different topics, such as travel Spanish, grammar, Latin culture, and more.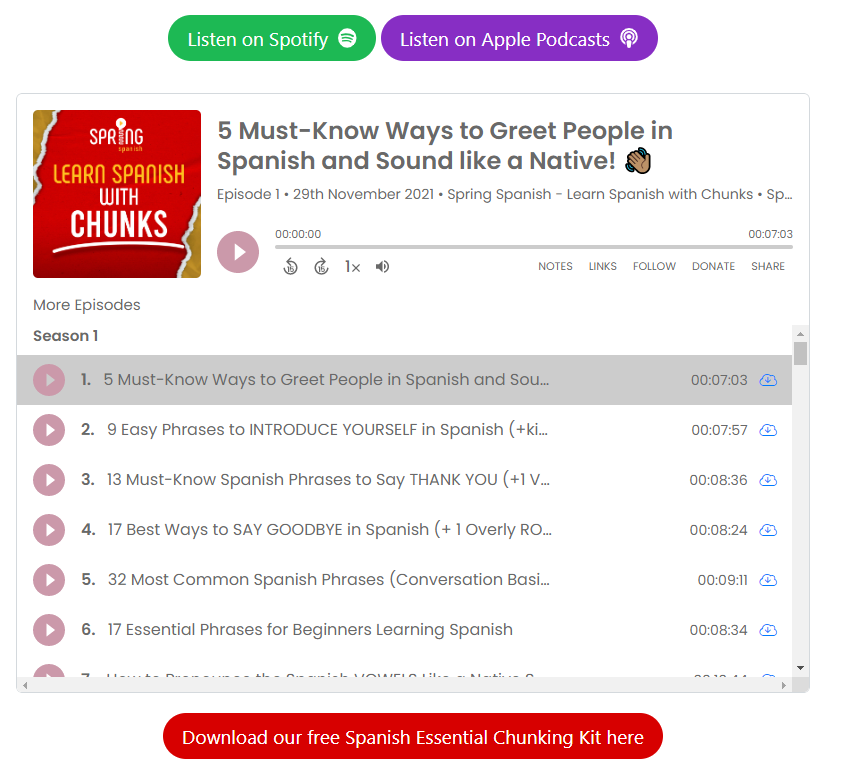 You can listen to the podcast episodes on the Spring Languages website, on Apple Podcasts or Spotify.
Spanish Obsessed: From Scratch To Advanced
Spanish obsessed podcast is a series of audio lessons and conversations that help you learn real-world Spanish. The podcasts range from 'Spanish From Scratch' up until 'Advanced Spanish Courses'.
With these audio lessons you can quickly learn more about everyday situations in Spanish and continue your journey beyond the basics.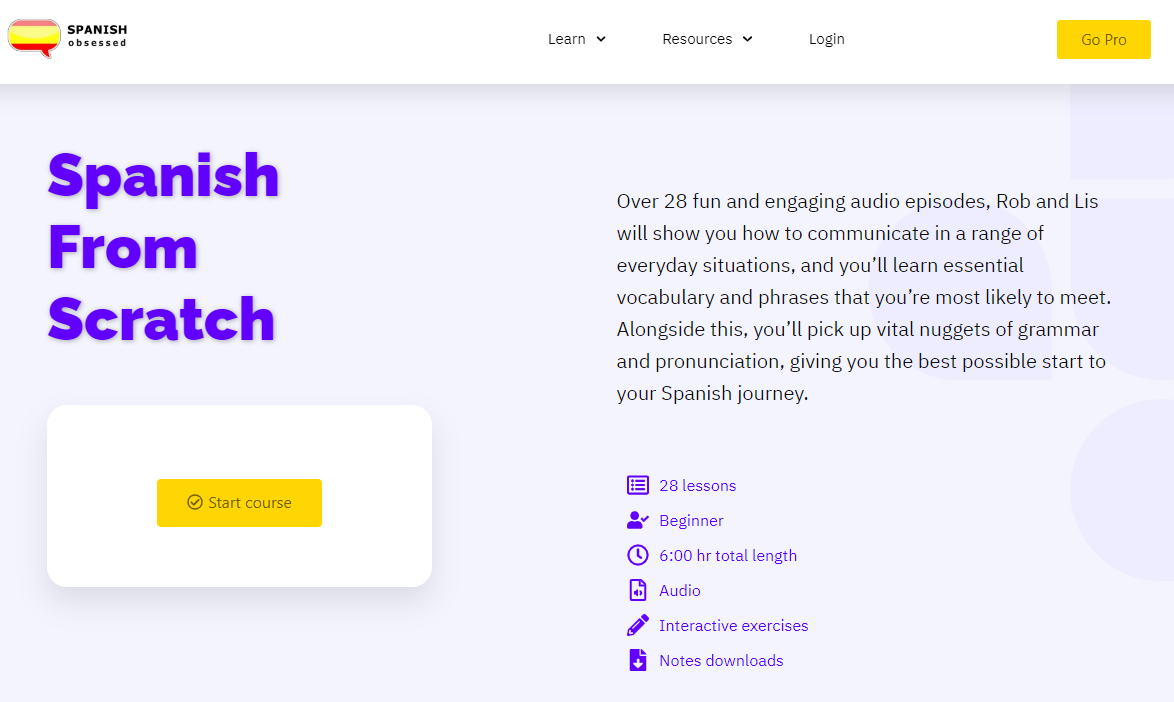 All Spanish Obsessed lessons and podcasts are available on their website.
4. Free Online Spanish Courses: 3 Ways To Learn Spanish For Free
Some of the best Spanish learning websites that I've found offer very complete free courses that include vocabulary, grammar, and listening practice.
Learning Spanish with these websites is a convenient and effective way to improve your language skills.
You can access a variety of resources, exercises, and fun tools that will help you in your Spanish language learning journey.
Loecsen: Basic Vocabulary And Easy Phrases
For those students interested in learning Spanish for beginners, free websites like Loecsen teach basic vocabulary and easy phrases, so that you can start speaking from day one!
With Loecsen, you can check out your progress at any time and work on your pronunciation with different Spanish listening activities.
Initially, you can choose from 17 different themes including Essentials, Family, Restaurant, Transportation, Looking for someone, etc.
Future Learn: Beginner Course In Just 4 Weeks
Future Learn is a great option, too, especially if you want to move fast. Its Beginner course can be completed within four weeks.
With Future Learn, you can master basic Spanish 1 level as you learn the words, sounds, and useful phrases to help you interact with ease. You'll also get an insight into the culture of Spanish-speaking people and practice your skills with both written and oral work.
The website also offers intermediate and advanced Spanish courses but Spanish for beginners is a good starting point.
Spring Spanish Website: For All Levels
Spring Spanish (of which I'm a co-founder) is yet another great option for students of all levels.
Its free course includes free Youtube Spanish lessons, a video course for beginners, vocabulary flashcards, and live calls with native teachers.
Check out the website and learn how to get started HERE.
5. Best Way To Learn Spanish: Discover The Best Games Online
Playing games to learn Spanish free is a great way to boost your vocabulary, grammar, and your Spanish knowledge skills overall.
Whether you prefer puzzles, quizzes, or other adventures, you can find a game that suits your level and interests. Games can also be very good for kids who want to learn Spanish.
Rockalingua: A Great Place For Kids To Learn Spanish
Spanish learning games can be found in Rockalingua, a great place for kids to learn Spanish using interactive games.
The website offers games to learn colors, numbers, holidays and vacations, seasons in Spanish and much more!
Digital Dialects' Vocabulary Builder: Fun Tool To Practice Vocabulary
For advanced learners, a vocabulary builder is a fun option, too.
Digital Dialects' vocabulary builder is a fun tool to practice on once you're a little bit more advanced with your Spanish language learning journey. Once you're on their website, you can also check out other games, too!
123 Teach Me: More Than 1000 Interactive Games
Finally, 123 Teach Me offers more than 1000 interactive games and activities for Spanish students of all ages and levels.
Within the games, you have to answer Spanish questions to advance to more difficult levels. Along the way, you can learn a lot about Spanish grammar rules and exceptions.
6. Learn Spanish Pronunciation With Youtube Videos
To learn Spanish, YouTube rocks! It is, in my opinion, THE tool to find Spanish lessons delivered by native Spanish speakers from almost all Spanish-speaking countries.
On Effortless Conversations, I put a lot of emphasis on Spanish listening and Spanish pronunciation and these Spanish YouTube channels are amazing to learn from!
Easy Spanish: A Wide Array Of Videos
To mention just a few examples, the Easy Spanish channel contains a wide array of videos including Argentinean Spanish, Mexican Spanish, and everyday topics.
If you're interested in Castilian Spanish, Notes in Spanish is a great tool for you.
Spring Spanish Youtube Channel: Free Spanish Lessons In An Entertaining Tone
Another fantastic YouTube channel to check no matter your level is Spring Spanish, whose teachers offer free Spanish lessons in the most entertaining tone. There are over 400 video lessons available on the Spring Spanish YouTube channel.
Here, you can also enjoy a Free Spanish for Beginners course that includes 4 four hours of free lessons.
Check it out!
Butterfly Spanish: Various Topics With A Lively And Cheerful Way Of Teaching
A great channel to learn Spanish, thanks to the host's lively and cheerful way of teaching.
The videos are usually a bit longer and more detailed, and they deal with various topics – mostly vocabulary and grammar, but also some cultural aspects.
I suggest you visit the channel and watch any of the videos.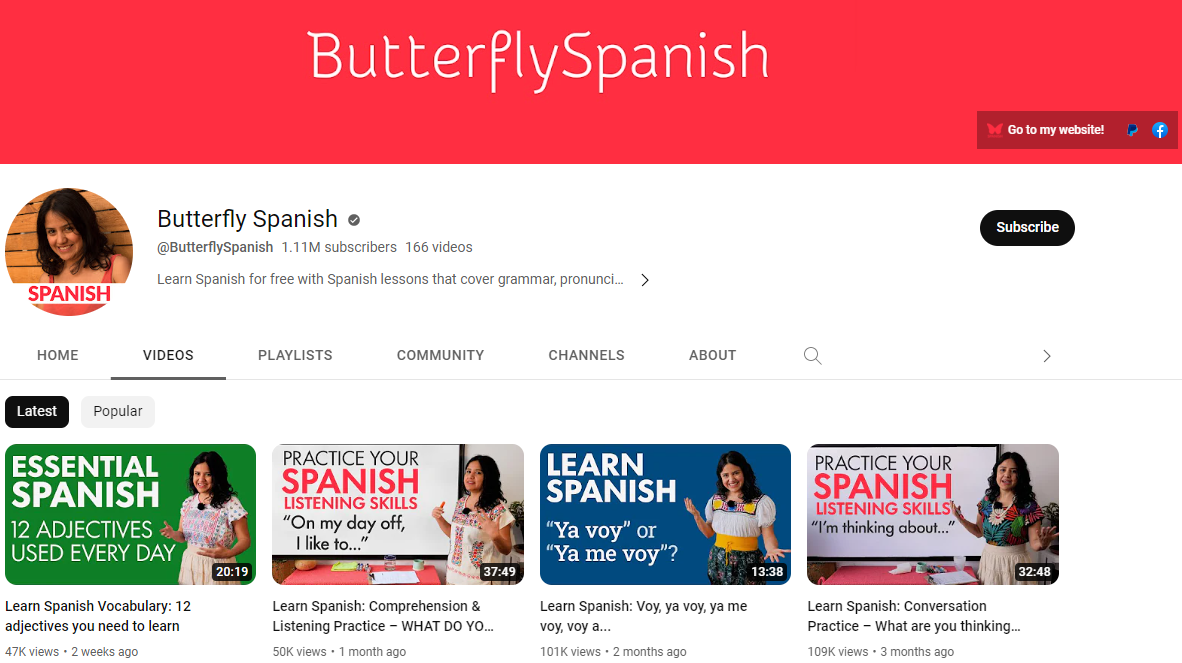 Butterfly Spanish YouTube channel also offers various playlists to choose from.
7. Can I Learn Spanish In 3 Months For Free?
Definitely!
But depending on your goals, learning Spanish can be a fun and long journey. And why wouldn't you invest more time into what you love?
How long does it take to learn Spanish and speak it fluently? There's more to read on that question in the article.
Can't wait to get started? Then check out the Spanish Chunking Starter Pack from Effortless Conversations. You'll build your confidence in no time and will feel much more comfortable when speaking Spanish.
Also, this learning method helps you learn Spanish you can use in conversations right away!