Top Gifts for Language Learners: Best Black Friday Deals for Spanish and other languages (2023)
One thing is 100% sure every year: Black Friday is the ideal time to spoil the language lover in your life (or yourself)!
The top gifts for language learners include various online language learning platforms, books and even language courses that bring out the best of everyone.
And if you think more about this topic, investing in language learning is not only a great gift for language enthusiasts, but it also benefits others, even complete beginners.
The Black Friday deals offer an excellent opportunity to grab some amazing gifts for language learners. We summarized the best Spanish language deals for you in this article, so make sure to check them out and also try the ones you like the most!
TIP: Combining different language learning methods will most certainly benefit you. (Cambridge University backed this with a scientific research!)
1. Spring Languages: Get everything for the price of one! ($247 instead of 594$)
Spring Languages provides a wide range of language learning resources, including learning guides, online audio lessons, flashcards, and a great community! All of this based around the highly successful Conversation Based Chunking method which helped thousands of students to learn their target language.
Only this Black Friday, you get special access to season 1 and 2 of Los cazadores de tormentas, a full Spanish Foundations Course and all other bonuses, including 12 units, 36 Spanish dialogues with professional studio-grade audio, transcript chunks, flashcards, lesson notes + 6 months complimentary access to the Spring Spanish Inner Circle!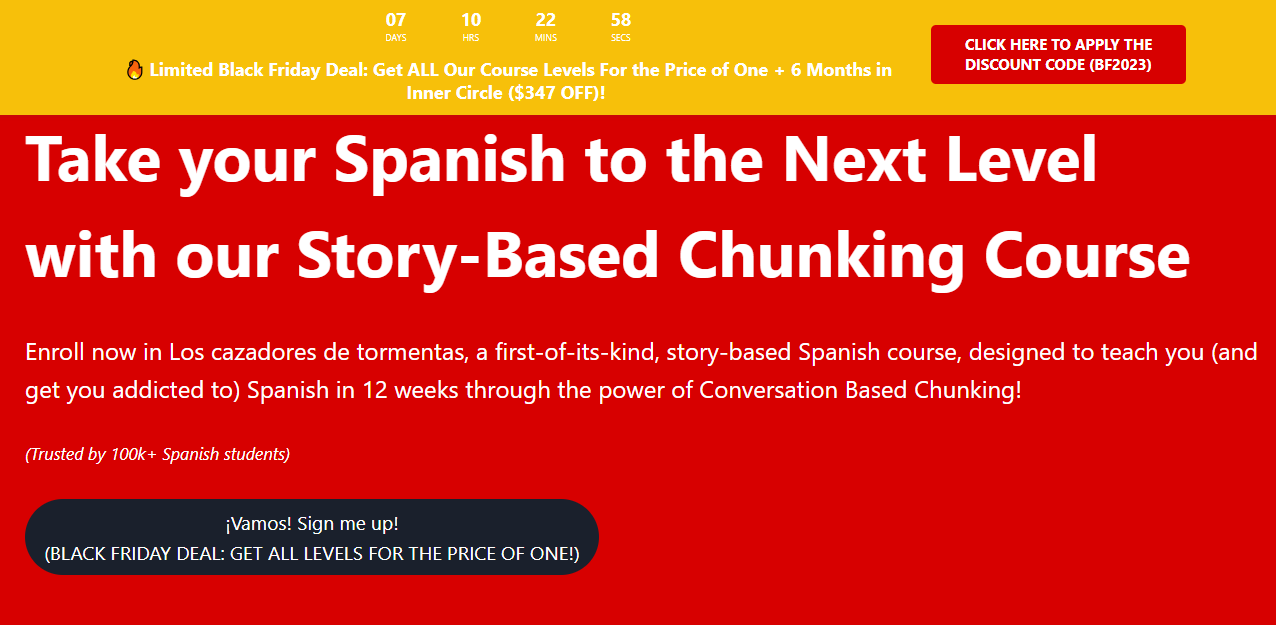 You will also receive exclusive access to "virtual coffee dates" with Spring Languages' YouTubers to get to know them and practice your Spanish
Wonder what is so special about this Black Friday deal? Well, you get everything for the price of one, so instead of 594$, you'll only have to pay 247$.
What are you waiting for? Grab this great deal right now!
2. SpanishPod101: 51% off on Basic and Premium Subscriptions
SpanishPod101 is a popular platform for learning Spanish online with audio and video lessons.
This platform is a true goldmine of chunks, so you can easily combine their methods with Conversation Based Chunking!
This Black Friday, SpanishPod101 is offering fast-track Spanish learning programs at exclusive discounts: you can get an insane amount of 51% OFF discount on their most popular Basic and Premium subscriptions.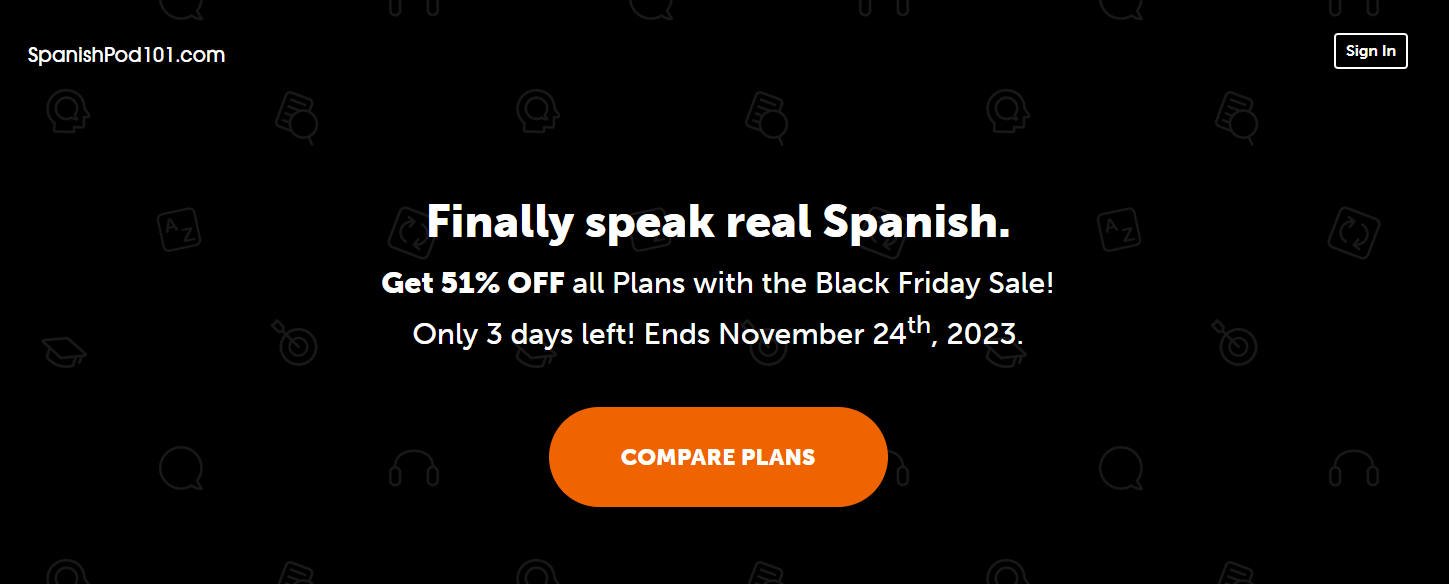 Use the coupon code BLACKFRIDAY_51 to gain access or click the button below!
TIP: If you still can't decide, read our Spanishpod101 review that tells you everything you need to know about the platform.
3. StoryLearning – All Uncovered Courses only for $97 instead of $297
StoryLearning's Uncovered Courses provide an innovative and effective way for language enthusiasts to dive into the Spanish language and culture (also, there are more languages to choose from!). Learners are presented with captivating narratives and cultural insights, allowing them to absorb the language in a natural and immersive manner.
But this Black Friday offers HUGE sales on not just the Spanish Uncovered section, but on all Uncovered Language Courses!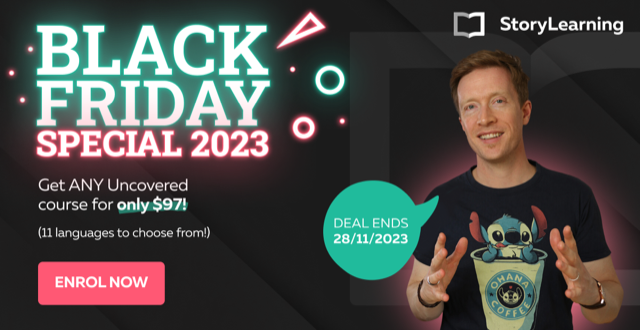 The original price for each of these full Uncovered courses would be 297$ but the Black Friday deal offers it at a discounted price of just $97$!
What are you waiting for?!
4. Speechling: 30% off all subscriptions
Speechling stands out for its unique approach to helping language learners PERFECT their pronunciation.
Speechling offers innovative tools and empowers learners to refine their accent and intonation. It's a perfect learning guide for Spanish if you already know the basics – we have an in-depth Speechling review, too!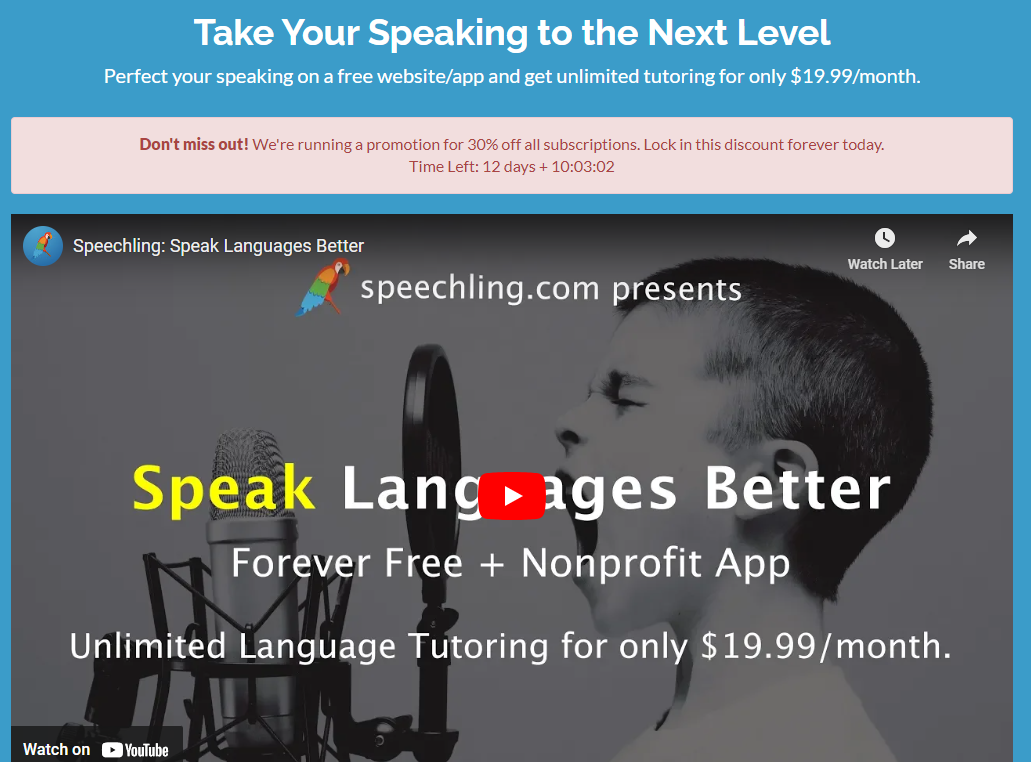 This Black Friday, take advantage of Speechling's promotional details and give the gift of impeccable pronunciation to the language enthusiast in your life. If you sign up now, you get 30% off all subscriptions!
5. Mondly: get 96% off lifetime access!
Mondly's language learning approach harnesses the most advanced technology we know of right now to provide an engaging and effective learning experience for language enthusiasts.
We went over the AR and VR feature, along with Mondly Kids and MondlyWorks in our Mondly review articles to let you know about how you can learn Spanish with modern technology.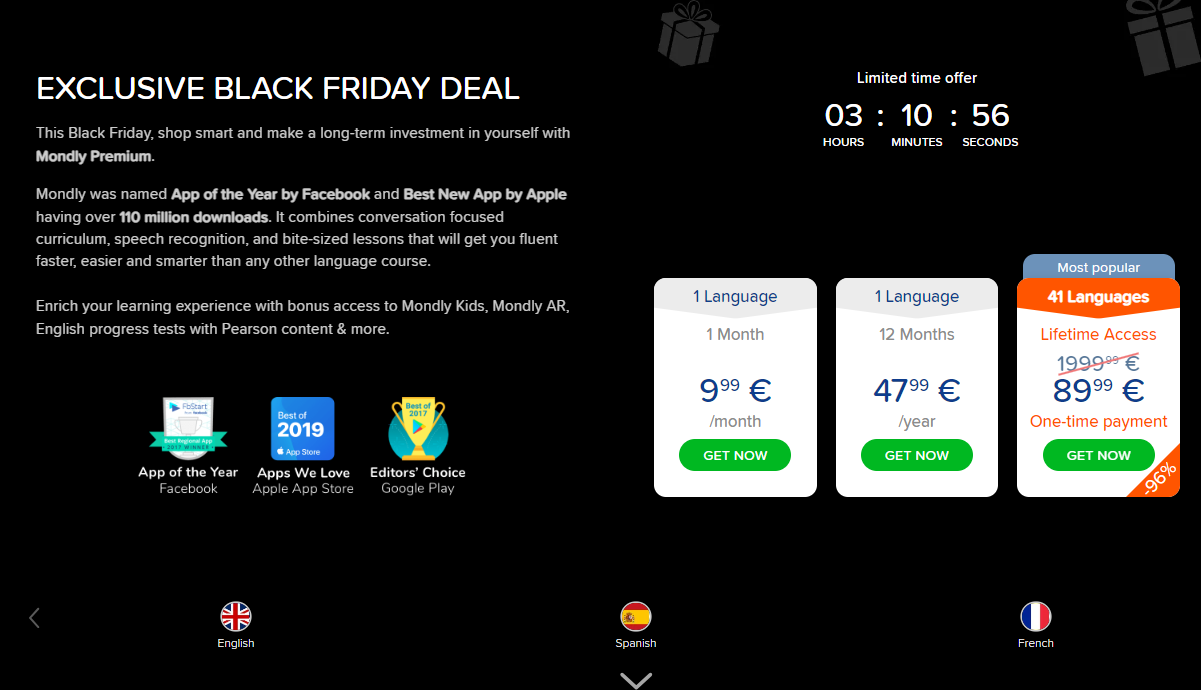 Mondly's Black Friday deal, accessible via the button below, presents an ideal gift for language lovers: an UNBELIEVABLE -96% perfect off Lifetime Access!
6. FluentU: 60% off to get full access to 10+ languages
FluentU offers a unique approach to language learning by providing an immersive experience through real-world videos.
FluentU's approach allows learners to observe the practical application of Spanish in real-life scenarios.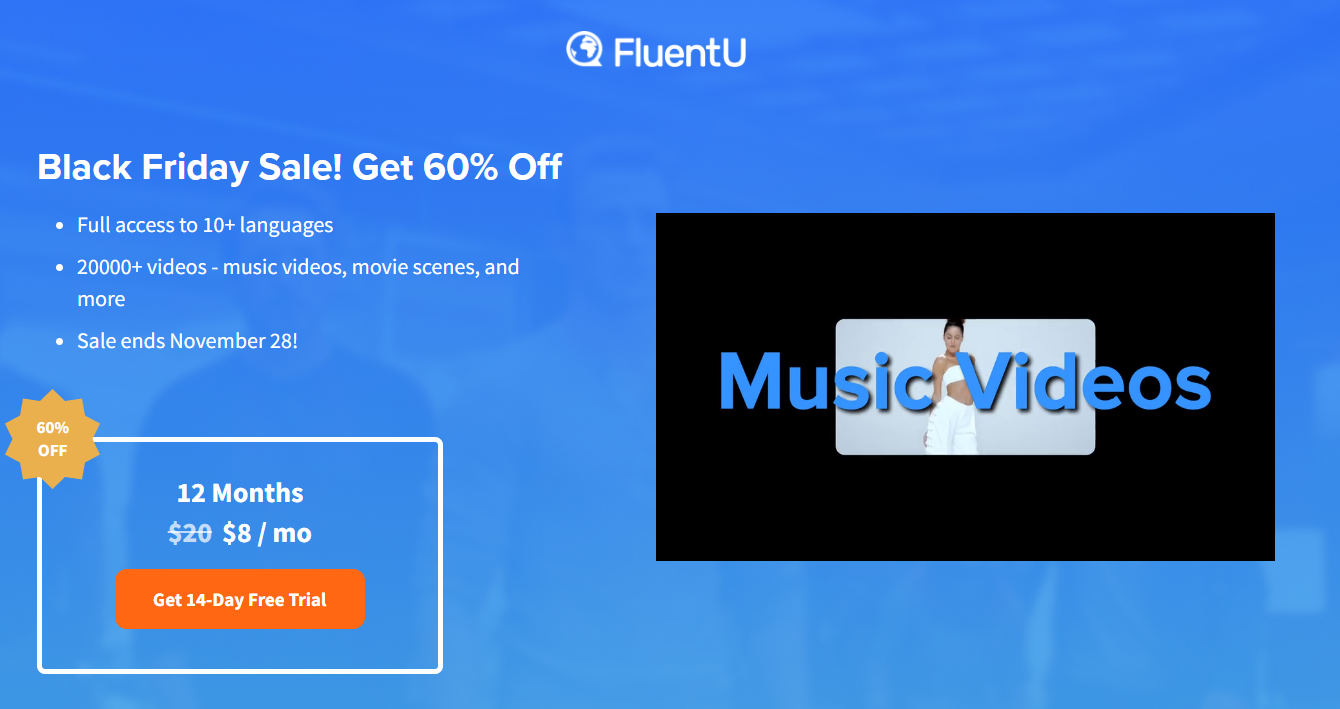 This Black Friday, take advantage of the exclusive affiliate link to access special savings on FluentU's language learning resources: 60% off to get full access to 10+ languages, 20000+ videos – music videos, movie scenes, and more!
7. Glossika: 50% off for annual plans
Glossika offers personalized Spanish (and other!) learning plans based on your level and interests in languages.
This platform offers customized content based on your level, and uses full sentence practice in context. This means that your vocabulary, pronunciation, and grammar acquisition will be more natural, just like with Conversation Based Chunking.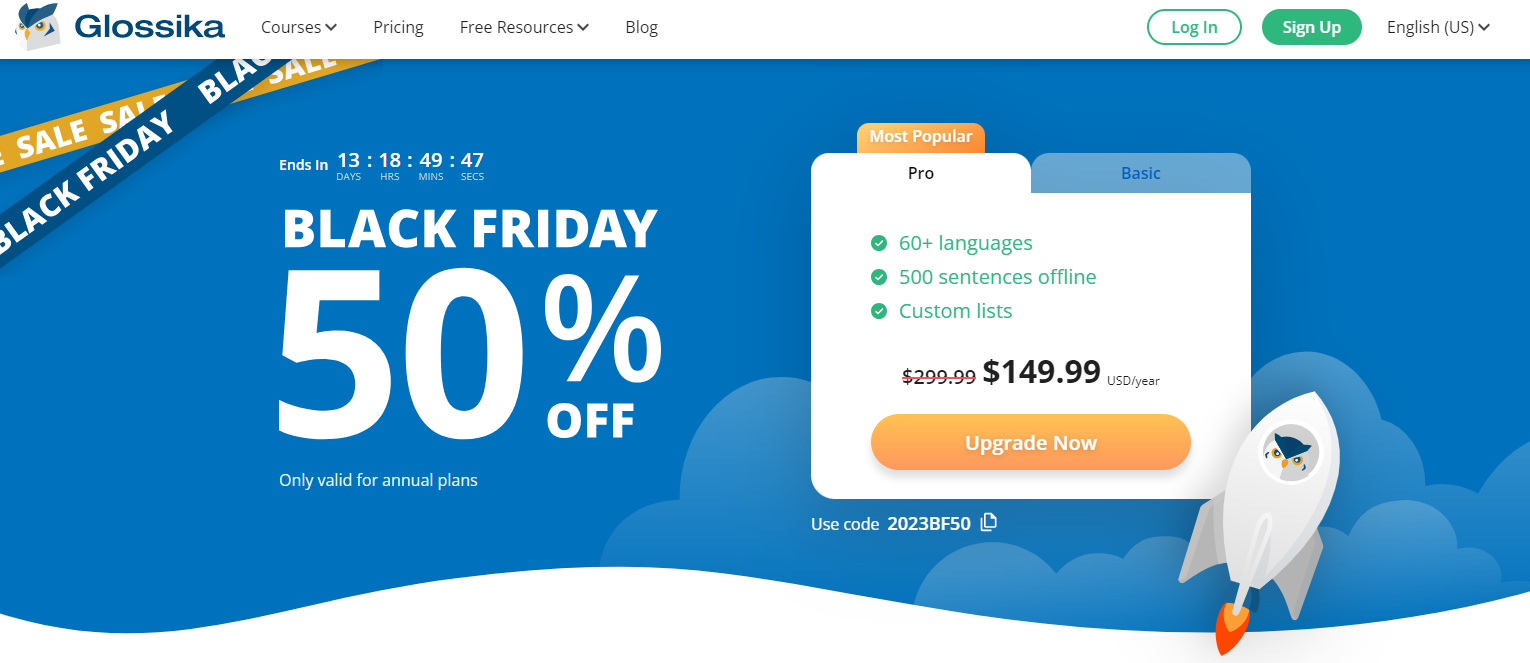 Glossika's Black Friday deal gives you 50% off for annual plans!
8. Lingopie: 55% and 58% off of yearly plans
Lingopie users learn languages by watching TV shows and movies! Sounds interesting?
Well, it definitely is! Follow your favorite shows complete with double subtitles in both the target language and your native language.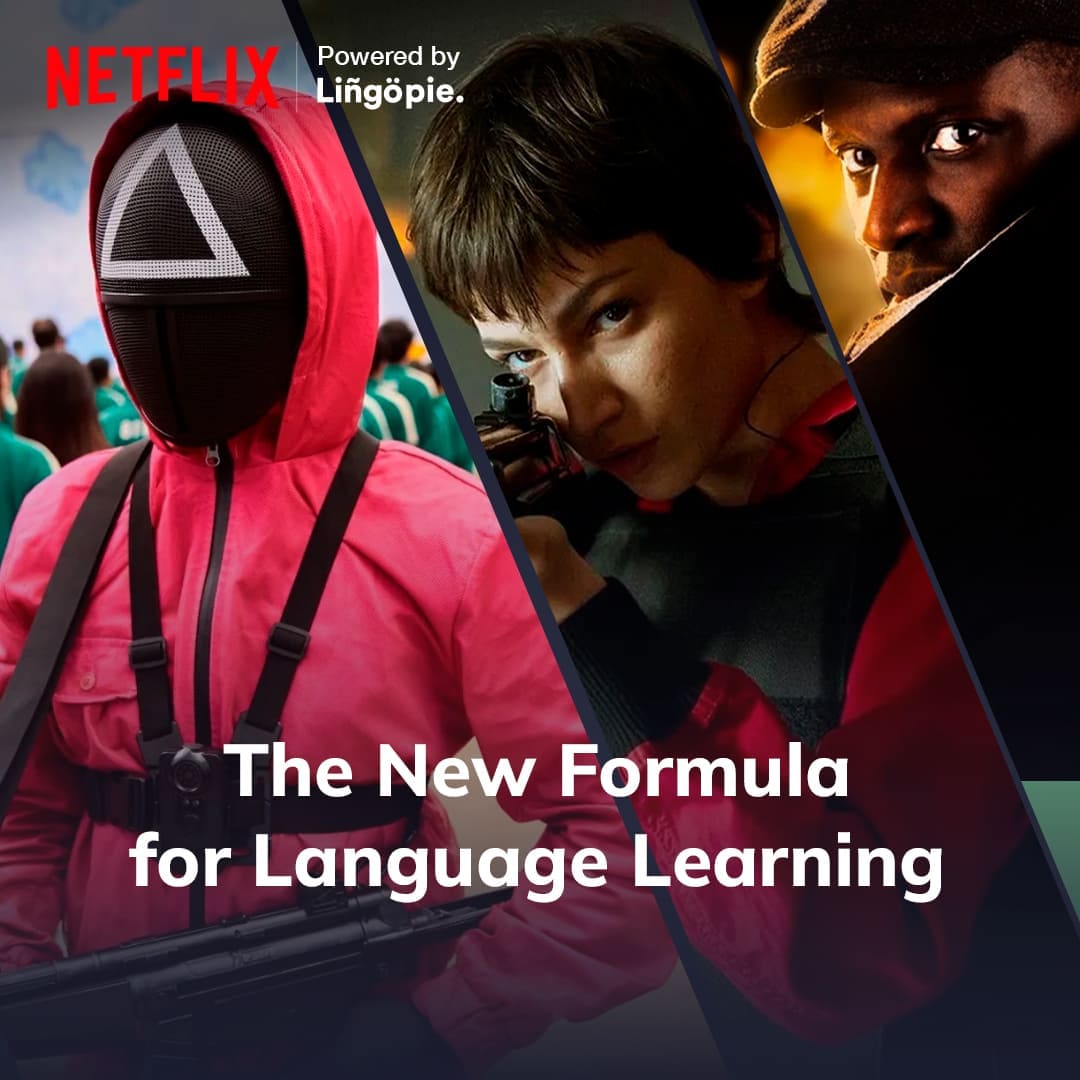 For this Black Friday, Lingopie offers an amazing 58% OFF on their yearly plan ($60), and for Cyber Monday, enjoy a fantastic 55% OFF on they yearly plan ($65), starting on the 27th.
For this Black Friday, Lingopie is offering this fantastic deal just for you to watch your favorite and possibly the best Spanish Shows on Netflix!
9. MosaLingua: just $99 for all the language courses (real value of $5,345)
MosaLingua's biggest ever Black Friday deal offers lifetime access to MosaLingua Premium, MosaTraining, MosaSeries and MosaSpeak.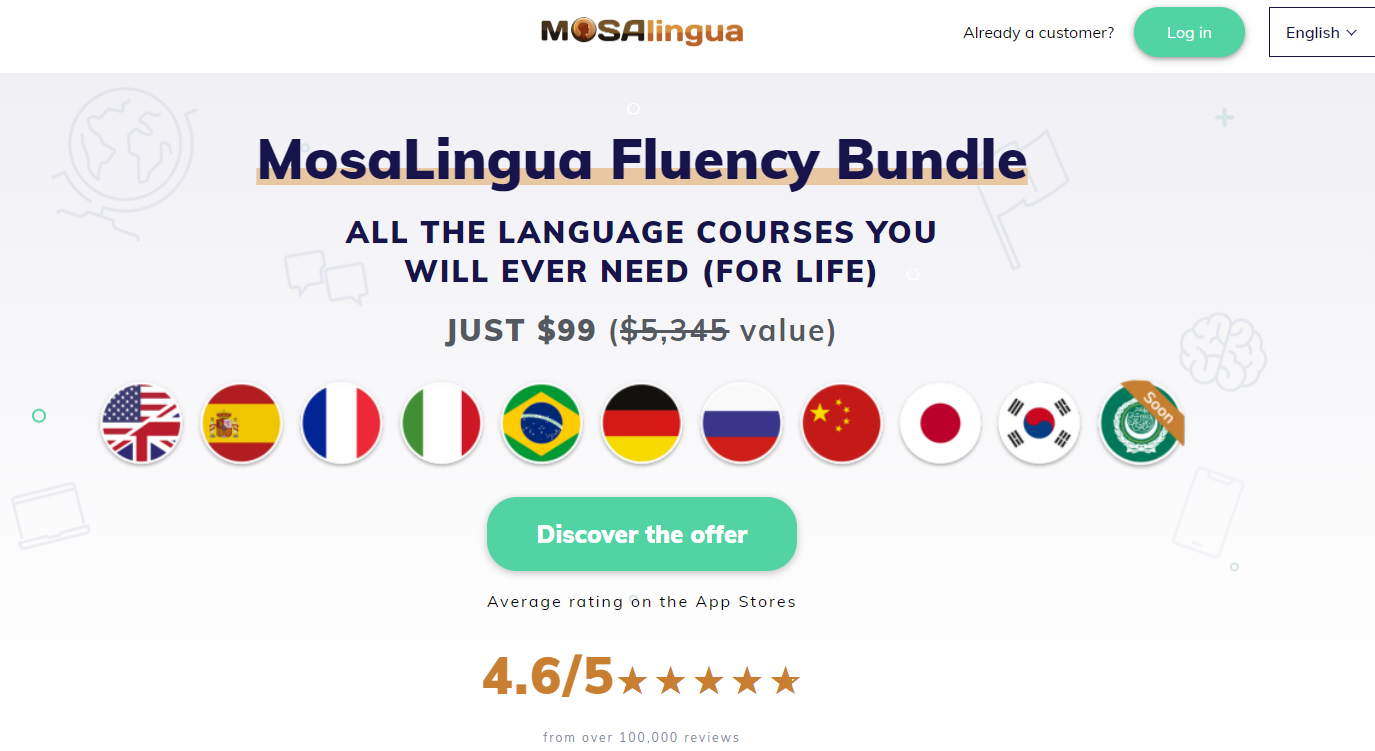 With MosaLingua you can learn Spanish (or German, Russian, French etc.) with step-by-step programs along with the newest methods for improving your listening skills, vocab and grammar with an addictive story to help you start expressing yourself more fluently and confidently,
10. Conclusion: Get the best gifts for language learners this Black Friday Weekend and Cyber Monday!
The Black Friday deals always present an unparalleled opportunity to get exceptional gifts for language learners.
Take advantage of the Black Friday sales and treat the language lover in your life to exceptional gifts that inspire and elevate their language learning journey!
Remember, the Black Friday deals offer a limited-time opportunity to access remarkable savings on language learning resources.
Don't miss the chance to unlock these great offers and revolutionize the language learning experience for yourself or your loved ones.